my sister's chemistry lab
February 11, 2012
my sister's chemistry lab is on the dresser.
the vials and bottles make a sort of stuttering lifeline
and what's in them? hair of dog, eye of newt?
heart of girl?
one wonders.
I wish she would cap her damn nail polish—
the harsh, annoying scent interrupts my alchemy of dreams.
and yet my eyes flick up from this poem
to where her substance boils,
and I can't say completely that I'm just
drawing from observation.
I wonder what is in those oils
to make such pretty loathsome girls.
they do say fake gold will turn your skin green,
I don't deny it, but grass is also greener on the other side.
I wish she would cap her damn nail polish—
I wish I understood her chemistry.
her head is closed, but mine gapes like an infected wound
no matter where I float.
oh, my maw, my jaw is aching
from keeping my head straight.
I am restive, but mostly quiet, now
I am listening to the bubbles of her substances whispering ugly secrets.
but where is she?
can I find her at the bottom of each perfumed bottle?
or has she flown for good, sister, I miss her,
I promise I'll hold back my gavel
and I won't interrupt.
I love you, I promise, even if I don't understand how
your hair blows, moved by movie magic fans,
your skin is glistening-perfect, female-raw.
Amy, I am listening.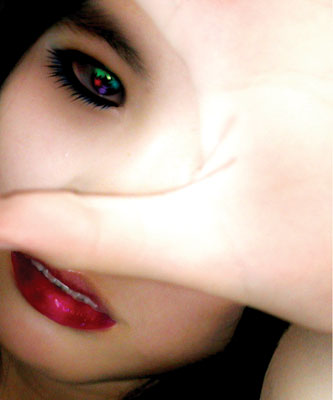 © Victoria W., Arcadia, CA