Safe in your arms
February 14, 2012
Words cant be formed, about how I feel,
The littlest things you do that show you care.
Make me crave more, and never want to let go,
The signs are all there, now I wait.
A glimpse of you flashes through my mind,
And I can sense you, your hand in mine.
I smile as I remember,
How happy you were to be with me.

I have butterflies at the mere thought of you,
And the memories bring goosebumps to my skin.
Your voice, whispering in my ear,
My voice combined with yours, singing as best we can.

Laughing and smiling,
Dancing and holding close.
Not an inch separate us,
Swaying on the dance floor.
Music thumps in my ears,
My heart beats out of my chest.

I lean into your shoulder in embarrassment,
And you lay your head on mine.
Holding me tighter, never letting go,
No one can interrupt us, in our own little world.

I thought it was me, the reason you didn't want to dance,
But no, it was my shoes, they made me taller.
Your manly hood was at risk, so I politely let you win,
By slipping out of my shoes, and into your arms.

We easily fell into step,
Letting the music guide us.
My hair flew in your face,
You tucked it behind my ear.
I let go for a second,
And you instantly worried I was leaving.
Little do you know,
Thats the last thing I want to do.

Being around you is easy,
Comfort wasn't hard to find.
I told you my arms were cold,
You wrapped yours around me.
I told you my feet were cold,
And soon yours were on top of mine.
I didn't need to tell you about my hands,
Because you knew it was coming, and yours entwined with mine.

I felt at peace, so close to you,
I fell sound asleep, safe in your arms.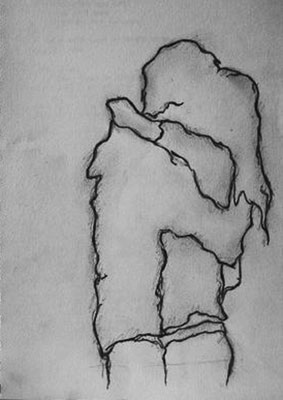 © Nicole B., Newcastle, WA