Psychosis
February 14, 2012
Insanity is the muzzle that holds me
keeps me locked down
frigid metal chains lacerate
my snow white velvet skin
as the madness plagues my consciousness.
The hushed tones
that try to cover up the accusations
of psychotic and crazy
are like cinderblocks on my chest
cutting off my ragged breathing and
making the air I'm inhaling choke me
to near death.
Deranged and demented cause my demeanor
to become depressed
and my secret silent tears to cut
through my tough outer appearance
until the turmoil that is flying around inside me
like a hurricane of agony and sorrow
rips through my fragile frail body
and the torrent pulls us both under
making us lose all comprehension
until we are nothing.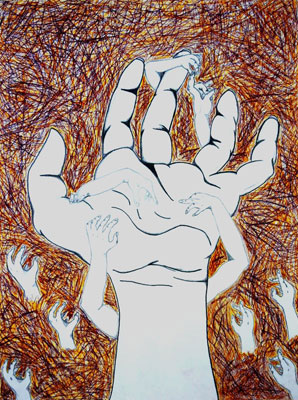 © Ariana R., New Orleans, LA