Crying Song
January 29, 2012
Something's wrong with me
I can feel it in my bones
Something's wrong with me
I see it written in stone.
Its standing right in front of me,
But I cannot describe
Everything that's wrong with me.
I wanna lay down and cry.

I make this thing as I listen to my song.
The one I hear in my head whenever
Something goes wrong.
I feel the teardrops fall,
As I try to sing along.
And I want to know why,
He still isn't mine.
I just want to sit down and cry.

My heart feels like its breaking
Into a million tiny pieces.
And no matter what I do,
There is no way he will let me back in his perfect little life.
I say forget you.
You say I don't care what happens to you.
My heart is so broken,
I just want to cry.

This song in my head,
This other man in my bed,
Its all just a reason to get away from you.
You broke my heart
So he tries his best to mend
But you can't fix this with a simple kiss and and "I love you"
Why is it this song only brings more tears,
Because I think I'm out of them all.

Why does this song break my heart even more?
Why does this song make me scream out in sadness?
I want people to quit hurting me.
To quit bothering me.
To quit making fun of me
To help me feel happy again.
And I want this song to stop making my heart hurt.
Stupid crying song...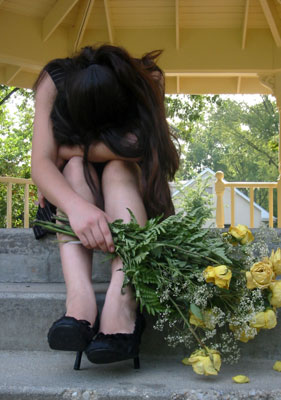 © Martha V., Morton Grove, IL