Graffiti
January 27, 2012
Come. Look. Listen.
Walk over here, enter the dark of the city and observe the griming slime of the walls.
See the layered chemicals as they stick to the brick, blaring a generation's bald boredom.
Hear the piss of spraypaint, the fizzing whizz as it splats upon the concrete, smashes, unties to become a color.
Under a bridge, in the dark, on a building.
The scenes are sweeping and fluorescent, they cry for attention but get
pushed where no one will look.
Ride down I-95 and see the stockade splattered. See the tags, see the pictures, see the symbols.
See the pain.

Imagine.
Imagine the time. Imagine the effort, the money, the care. These are pieces that speak to the
world

in a briefly seen blur.
Pieces that scream a city's character
in a glimpse as quick as your car window.

Think.
How long would it take you
To do?
Look, look again.
Look at the lights, the colors, the shadows and black.
The faces and fires and flesh.
See drab dripping darkness that soars at you with screams of bloodshed.
Can you hide it? Can you deny it?
Call it anything but art.
Graffiti.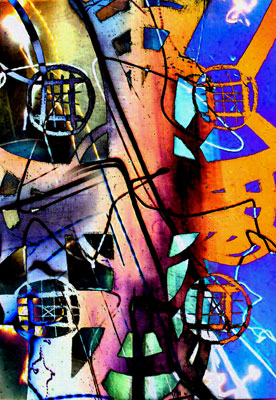 © Caitlin D., Tyler, TX