Falling that Fall
January 8, 2012
do you remember me?
Its been so long
It seems so long
being trapped into dark
sometimes I think I see a light,
but it never turns out to be
now I crumble to the ground,
the way I choose to see
does anything remember me?
the darkness seems to have covered,
my tracks of life
well, not all of it
I know where most of it went,
Im losing distance
Its like i'm not able to go far,
because when I think I see a light,
it turns out to be nothing more
than thick fog
excitement blinds me with pleasure,
and desire,
to hope that I'll fall,
fall far down
so I could feel the butterfly's in my stomach
remember,
it feels good to fall,
to feel the fall,
to be falling the fall
I wish no more than to run and trip,
and scrape myself,
to get to that fall.
Getting.
To.
That.
Fall.
a fall only lasts so long
more excitement threw me to the ground,
laughing my head of,
I screamed at the sight of the pseudo fog,
and laughed at myself
So much excitement,
so much pain
Each laugh stabs me in the gut,
to think that if I just fell once,
I would be happy for the last seconds of my life
depression,
to get up,
and never laugh a breath again,
I walk forward,
I walk sideways,
I walk all ways,
but never, Never will I walk back.
I need to find the fall,
and make sure I fall it
then,
maybe I'll be remembered,
but then again,
who's there to remember it,
who's there to remember me...?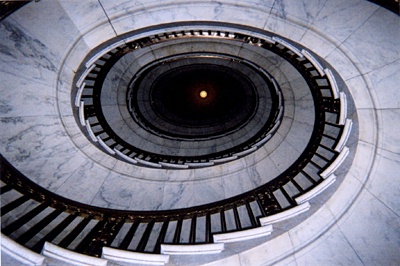 © Kyle T., St. Joseph, MO