Claud
December 31, 2011
Great Grandfather said:
Believe none of what you hear
And half of what you see.
He was a sharecropper,
He was paid little.
He went and spent half on drinking-
He drank alot on weekends.
The children had to hide on the
Weekends.
Mabye he was
Angry
Because they lived in shack,
Because there was little foos
And sometimes they had to lure in
Possum and eat that.
Or sometimes they
Found
Canned goods: lomg expired,
And ate it anyway.
Then, for water, they
Drank the rain.
Memmaw explains to me-
That you'll eat anything when you're hungry.
Mabye he was
Angry
Because he had no sons:
Eight girls and no sons,
Half the time they had
Shoes.
They had to work all summer for their school clothes,
An outfit or two,
Then had to walk miles in cold,
Shin-burning cold.
They carried the pounds of cotton,
Which swished, swished as they walked
In the sun,
The sun that controlled their lives.
Mabye he was
Angry
Because they had a sliding
Stick of wood for their door lock.
And had to stuff
Holes and cracks with old
Newspaper.
Maby he was
Angry
Because the girls had to
Rip up old sheets
Every month instead.

So he drank it away,
And his mind, too.
But it came back by Monday.
He had to get back out there,
In the summer, spring, fall, winter air.
He got back up every time
Justb to fall back down again.
And in his dreams of heavy sleep,
He sees all his family,
Pulling the great heavy weight
Of Mississippi gold along,
As they hear the deep and solemn Negro Song.

He was angry
Because: They were a never-ending Slave throng.
It really wasn't sharing at all.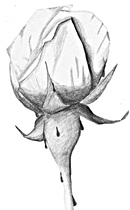 © Elaine S., Phoenix, AZ