A Transcendent Plunge
December 11, 2011
A deep breath and sealed, smiling lips.
I am already half-way off solid ground,
suspended only by gravity and velvet-soft brushstrokes of salt in the air.

In a heartbeat, all goes cold-
a kind of instantaneous adrenaline rush,
screaming a deafening silence into my every pore.
Pungent and consuming as it is, in just a moment I am hovering,
fully embodied and cradled by liquid fingers of cool warmth that suspend an unmeasurable unit of time within what is but several seconds.
For the elapsed period, the physical world dissipates,
like rubbing alcohol on a blackboard,
and both sound and silence intertwine into a song without melody-
a song without lyrics, because the words are thoughts, and the thoughts are mine alone.

But.

What an ugly word, "but". Like a person who bestows sweet gifts, just to take them back the next day.
In a distressingly similar manner, gravity pushes back,
cutting the breath in my throat short, as I become aware of my immediate need for oxygen...
O2...
a colorless, odorless, reactive...
SCREW IT- I NEED AIR!

With one forceful jolt, I command assistance and am lifted toward a shimmering, glass-like surface,
bruised with secular colors and distorted shapes.
The cohesive forces are broken as I shatter through the film,
gasping,
blinded by our brilliant star- the baton that must conduct the worldly, solid universe into which I am restricted.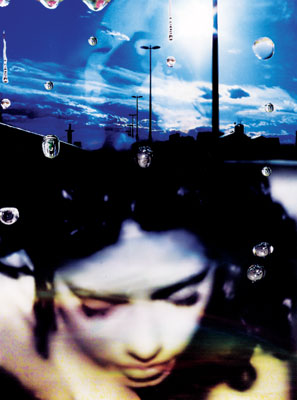 © Becky F., Sacramento, CA