Escaped
November 7, 2011
Let the world's wisdom
Break though this cold heart
For it has forgotten
The warmth of love
Like I have so.
A tear so vivid
My eyes see it drip
Onto a future I do not want
With an abused heart
That sees no beginning to this end.

For even when I sense
An angel's wings wrap me
Caressing my damned soul
The agony of their presence
Still lingers near
At my touch.
Presences that consist
Of hollow loves
And wasted seconds
Leading onto thousands of minutes.
That I do not longer reach back for.
And moments alone
I wished had never happened.

Now an essence,
My essence,
Leaks out onto a vivid world.
The marrow of my being
Spreading like tainted water
Across the ground.
A calling,
A cry,
Does not make it past my lips
For the caring of an end
Is too strong to fight.

So in the witness of the moon
I stalked across a bridge
Covered in the filth of humanity
And the revenge of the earth.
Death steals me into the night
And I do not ride on the wind
With the wings of an angel
But fall into remorse
And misery.


And in a fortnight
The lost of me
Shook the death of former loves.
I watched in their shadows
As more blood spilled
And tears turned into scars.
Yet all I do is sit
And watch with no compassion
As they suffer
The pain Death pulled me from.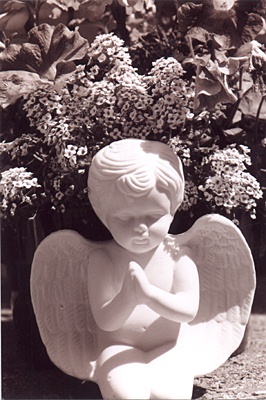 © Laurie T., Hopkinton, MA