Skittles
November 3, 2011
Skittles like little beads of fun
n the colors of the rainbow appearing in the sun.
The flavors make your taste buds explode.
If you eat too much, they make you gain a load.
I feel like a child again.
And I wish I was as naive as I was back then.
These colorful candies remind me of the days
when everything had laid back ways.
As I pop one in my mouth during class,
I want to think about my future but I decide that I'll pass.
I'd rather not know
and just let it go.
I burst out laughing thinking about throwing these Skittles at strangers and screaming, "Taste the Rainbow!!!!!!" as I did as a kid.
And everyone turned and questioned my sanity. I wish I hid.
But I eat the Skittles and remember
the wonderful days of September.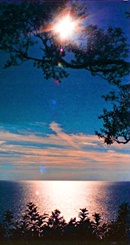 © Crystal B., Gresham, WI