Math to a Poet
November 1, 2011
I told you how the numbers stare,
Cold as war prisoners,
Trapped between unbending bars

Those heartless teal margins
March over a starched stretch of infinity,
While simple, scratchy lead
Loops through the endless
Long-dead hours

From null to one million,
There remains a pattern
So straight-forwards
It sickens the healthy eyesight
Of those that line up the alphabet

They twist the lonely letters
Into paintbrush bristles,
And the kindly consonants and vowels
Scrub against the canvas
Until the pale
Droning
Dryness
Disappears
Into whirlwinds of colorful language

Equations: they don't speak to me.
They never click,
Silver metal into plastic like a seatbelt,
Never transform into
Untainted reason

Fact books feel slick,
Slithery, sly
Reminding me
Of the world's most greasy lawyer

Novels, with their ancient texture,
And their apple-crunch pages,
Rustling the way birds do,
Settled into nests- bowls of comfort
Sing out the rhythms of humanity.

They thunder my heart into action,
As the protagonist and I
Share thoughts, become friends,
And think in sync…
Pure unison

I told you how the numbers stare.

Forced into confusion,
I stand my ground
And gaze, unblinking, back at them
But nothing cracks

The wall of misunderstanding
Built from years of words, words, words
And forgotten multiplication tables
Stands, towering, always

Therefore, I will return to my fiction,
And you can keep your mathematics.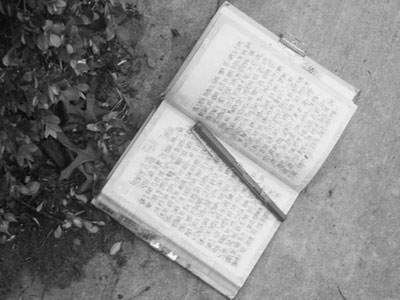 © Quinn B., Lubbock, TX