Gumdrops and Lolleypops
September 22, 2011
Why can't I go back
And change the past,
Jump from where I'm at
To a better time,

Why can't my troubles be so innocent
As they were back then,
When I thought my heart would break forever,
But always seemed to mend,

Why can't kisses seal away pain,
Wave goodbye to one bad day,
To come in to another
Just filled with fun, arts and crafts,

Why can't we skip along
Laughing and giggling,
Singing at the top of our lungs
Our favorite song,

Why can't we just for more
Treats and sweets to appear,
Instead of rumors and bruises to disincarnate
Hiding in all the cliques and hate,

Why can't we all get together,
Having little crushes on the other gender,
When boys still pulled your hair,
And gave you disgusting dares,

When did our suckers
Turn to cigarettes?
Our grape-juice to wine?

And when did our bonfires,
As well as going to the park
Turn to places to get high?

Since when did all this happen?
Since we all started Junior High…..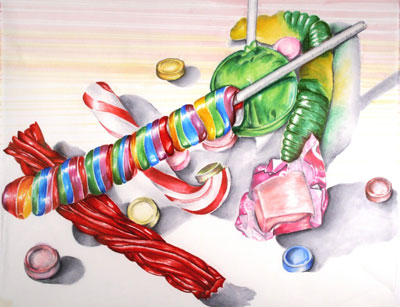 © Jamie B., Fairport, NY