Strange Stirrings
August 24, 2011
People change

And what's more
They get older,
They get comfortable.
But just you know
What's inside
Ain't at all different if
You look from an angle,
Cause when the sun goes up
The moon comes down,
Shedding light on this worn-out town,
Making warmth where none was before.
Protect yourself as you face the night.
People rise

And what's more
It's for a purpose,
A common motive.

I may have trouble
Accepting this change
With all this business
Fogging up my brain.
I stare out at the darkness and start to cry
'cause I know it ain't easy
To find what's inside.

When profiles are bigger
And faces make more sense
Than looking on the inside
And going into that fence.
But people fly

And what's more
They leave you astounded
Standing on the cold floor
Cause you thought they were nothing
Till you looked inside
And saw they were greater
Than what they had to hide.
So don't judge by the outside
And don't push strange people away.
Sensitivity is stirring.
Ignorance is gray.

When you feel the urge to title people,
Bite your tongue.
Those people are beautiful,
And outshine the sun.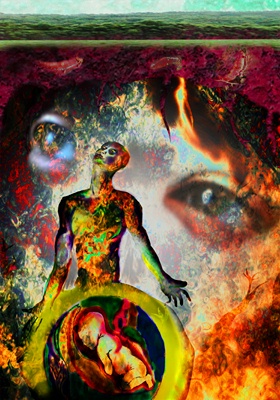 © Tom M., Philadelphia, PA