Two Gray, Two Black, and One in Between
August 16, 2011
Five beautiful bodies
Awaiting destiny in the back seat
Ears pricked
Paws shuffling
Two gray, two black
One in between
Plea after plea annihilates my heart
Left in teeny tiny pieces
That resemble each and every one of their furry faces

At the shelter,
Their eyes pleaded, "Please not me."
While their bodies kicked and screamed, "I thought you loved me! I love you!"
And their fur puffed into choruses of, "Don't leave me. Please."
Breathing shifts into a struggle
As if i resided underwater
Saltwater slaving down my tinged cheeks
More vast and knowing than the ocean
Yet each meow of distress still feels like a stab in the back
But I'm caressing the knife.

Staring at their cages,
I attempt to muster up courage
To plead for their understanding and forgiveness
While guilt taints my every nerve
For sneaking peeks at others' cutie pies
When I should be spending every last second I have with mine.
Never again will their faces beg my hand for a caress
And never again will I be comforted by their purrs.

I can't help but to slip my fingers between the bars
And wrestle with their ears
Paws flash and swipe at my knotted, messy hair
Attempting to pull me in
As if I could squeeze myself into that prison and halt this sudden change,
This sudden void in my heart and home.
Those bars keep them in
But worse, keep me out.

While the adopters view my sob-story,
I whisper those last heart-wrenching words
Unable to produce my pure, ringing voice
The one I know that'll haunt their dreams
Wishing to take them back to their toys
Back to my warm, familiar twin bed
Back to freedom
When all I can hope is that those
Two gray, two black
and one in between
Will be happy and loved
For that is something I can no longer provide.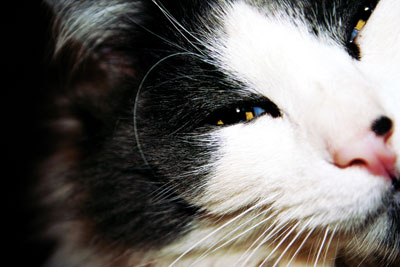 © Monica L., St. George, UT