Please Breathe
July 26, 2011
She sits and she watches
His mouth form louder and louder words.
She steels herself, as they stream out and begin to stab her,
One piercing, dagger syllable at a time.

Underneath the skin of his cheeks, she detects a burning fire
Glowing red hot, clouding his vision with its smoke.
She feels the flames rising, the heat from inside him
Pouring out into the air between them.
She sees his eyes narrow, trying to peer through the haze
But he is lost, ablaze in his own inferno.

His tough, leathery forehead crumples into canyons,
And she stares over the rocky edge to witness him falling,
Farther and farther down.
She can only watch, her face molded into pity,
And plead with her wide eyes for him to breathe.
That face, she knows, is the fragile, crinkled paper divider
Between him and destruction.

She hears his voice rising, sees the color come to his cheeks and his forehead crumple,
And then the rough, calloused hand contracts into a steel wrecking ball.
She continues to sit, to watch, as she hides the fear slithering up her throat,
But concern in her round, misty eyes extinguishes the flames.
Her youth, and need of protection in those pale, soft cheeks
Hold him back from the edge.
The quivering of her downturned pale pink lips
Slowly melts his fist.
He takes one full breath, returning to her.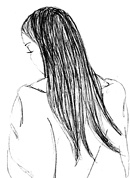 © Miranda B., Neosho, NY