Teach me to fly, my love.
July 20, 2011
when i look up into the sky, i think "man, how i wish i knew how to fly."
then i look at my own two feet, standing there alone on this vacant street.
with my one pink lace and the other one blue
i will imagine just jumping off the ground into the arms that belong to you.
because you make me feel like i can fly.
when I'm with you i would never cry.
i love you with all my soul
and i would follow you through any door, window or hole.
i can look into those stunning blue eyes
and always be mesmerized.
love is a funny thing.
even if it doesn't involve a ring.
i don't need one
as long as i know i will not be shunned.
so hold my hand and teach me.
teach me to fly or just let me be.
teach me to fly, my love
just like the beautiful dove.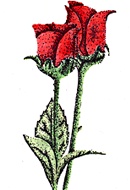 © Sarah M., Phoenix, AZ