These Things
June 18, 2011
My music,
these sounds
borders at the edges of
keys, how
high my voice screams
and how much I
have to
give.

I find
when I play,
that
there are songs
in my head
that's notes, turn into
questionable lyrics,
and I'm
scared of the day when
I won't hear those words
anymore. (No pen. No
sharpie. No surprise.) and when
they become phrases
I can't
stop singing
I see,
and it's sounds,
will turn inside of me into
these journal entry's
about memories, and the things
I no longer understand, into
something worth
giving.
My skin
would be conscious,
and coveted as it is
covered in words
and pouring
music sweetly, the songs
I am wearing
ARE
those repeated cadences
that surround
my hazy outline
of reality.

(But I think I
rather like this
drug induced stupor of
royalty.)

These words, MY
words
are my remaining legacy,
as letters form mazes that
surprise me and even
I don't know
how to
circumvent
their complexities.

Yet...
I can't figure out those
empty arrows
pointing to blank spaces
among the twists and
turns, and why, WHY,
I can't stop the
fucking writing.
My skin is covered,
in my version of reality,
from that drug-induced coma long
ago.

I may have gone
crazy at the onslaught,but
if you could
turn me inside out
now
just think of what I'd
say.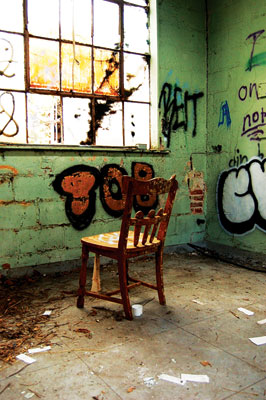 © Gianna V., Sewell, NJ