The Death of our Friendship
June 28, 2011
We were supposed to grow old together,
Plan out our lives together,
And be best friends forever.
That's changed.
Now I get that electric shock when I see you,
The bad kind that reminds you that you're going
Through a hell that's tailored especially for you.
We were best friends, and now we're not.
It happened in a split second on a pretty June day.
June's supposed to be pretty, isn't it?
It wasn't for me, not this year.
Maybe it will be next year, but it's hard to think about
Being here next year without you.
It's hard to picture how I'm going to get through
My first year of high school without you.
But I have to find a way, because you left me.
You left me to mourn the death of our friendship alone.
You came to the grave once, then left it to rot.
Me?
I visit the tombstone of our friendship every day.
I revisit that horrible second where you decided
We were done forever.
I wallow in my misery.
I cry.
I pretend it doesn't bother me,
But when the sun sinks below the horizon and
Leaves me to my thoughts,
I mourn the loss of the one thing that once meant the
world to me.
But it's gone now,
I guess I have to find some way to get over it.
We all know I won't.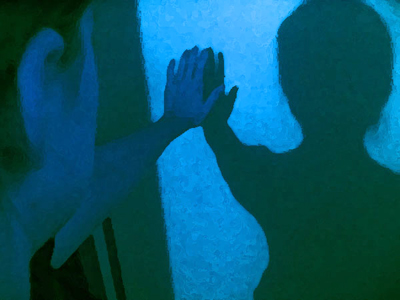 © Katie C., Libertyville, IA