It's A Game
June 25, 2011
I know a lot of people
Won't agree with my views,
Won't agree with my beliefs,
Won't agree with opinions.

So I stay quiet,
Keep my mouth shut,
And blunder through life,
Unheard,
Unseen,
Alone.

I get so angry sometimes,
When I hear the lies told,
I want to scream at the world,
So they will finally see me,
Finally listen to me.

But I know it's not that easy,
And that's the real kicker,
Since we live such sheltered lives,
Difficulty isn't in our vocabulary.

I know that's not fair,
Saying everyone has it easy,
There're homeless people on the streets,
And little kids starving in some distant country.

We're "The United States of America",
And most are proud of that label.
The land of the free and the home of the brave,
Always here to help our neighbors in need.

Sorry America,
But I'm not on your side,
I don't believe in our mottos and past genocide.


I know it's not all bad,
So I guess I'm being unfair.
But it just bothers me so much,
That our biggest enemies,
Are living in places with a lack of scenery.


It's a shame,
It's a game,
It's a crime with no name,

It's insane,
It's inhumane,
It's a never-ending pain.

But you know what's funny?
You know what makes me laugh?
All the biggest screw-ups here at home,
Are on the government's behalf.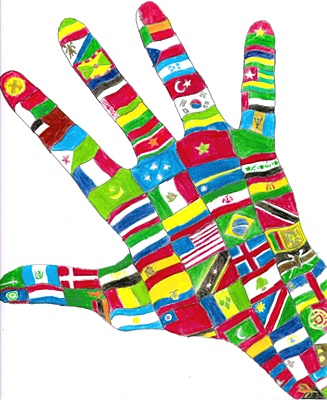 © Adeline N., Ridgefield, CT