The Last Drop
June 23, 2011
The last drop is held dangling
It clutches to the brim
Such a long distance to fall
The end may be
Miles away
But at last the force is too strong
Down the drain forever.

The few last drops left remaining
They dwell at the base
The others have already departed
What is yet to come
After they too are shaken out of hiding?
The end may be near or far
Finally released
A breath of fresh air
The tin can is past, nature awaiting.

Only a handful of drops drifting about
In the creamy vast region of mist
Their time has come to indulge,
Head first, diving, and descending
To the bottom, in which may be
An everlasting stretch
Time to jump
The sky grows farther away
Until the crash.

Now one drop remains
Hesitation ceases the sudden descend
Nothing else in existence
Except the sense of distress
The end is drawing nearer
Anxiety clambers through
The small spaces of conception
The bottom lies
Just south
To where my hands fold
Slowly the drop trickles
The tear falls and
I wipe it aside
Hope in my mind.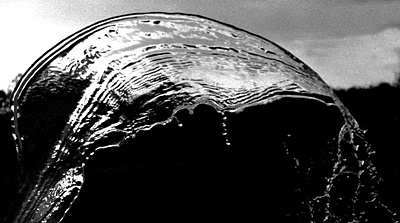 © Kellie S., New London, NH