The Pain You Had Caused
May 31, 2011
A bullet of pain.
A bullet through the heart.
A bullet without a bullet.
Pain striking through.

The world shattered to pieces.
The world crashing down.
The world to its end.
All because of you.

Why did you lie?
Why did you cheat?
Why did you not be honest?
Is that hard to ask?

You had deprived me of life.
You had eradicated my soul.
You had showed me no love.
Love is too valuable to lose.

Maybe it's time to make a change.
Maybe it's time to do somethinng big.
Maybe it's time to end myself.
And end the pain you had caused.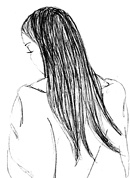 © Miranda B., Neosho, NY