My Dear
May 27, 2011
You, my dear, lead
And I will follow you to
The ends of the Earth
Being by your side
Is what makes it all worthwhile

I try and make you laugh
Only to see your stunning smile
I will catch you when you fall
And hate myself if I don't.

Your touch sends chill up my spine
Your love is priceless
Even though you don't need me
You grace me with your kindness.

I'll never leave you're side
I'll cry if you go, but understand
You are like a thousand dreams
Rolled into one.

I love you.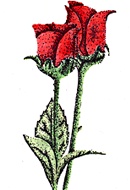 © Sarah M., Phoenix, AZ