Summer Rays
May 15, 2011
Beating down like relentless whips, the sun lashes out like a jealous lover.
I am its slave, its puppet, held in hot grasps of wind like strong fists.
My movement is not my own, and my speech is foreign to my ears.
Summer has infested me with heat and disease.
Take me away from this mist of melancholy.
My eyes are waning, my breath almost forgotten.
No one can find me in this chaos.
Lost in the rays of the sun.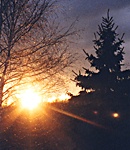 © Christy S., Germantown, NY