May Day
May 12, 2011
In Pakistan he waits on dialysis, writhing in pain in his own profit.
He sits on his unearned throne of his mansion.
The Navy storms in and they shot him in the head and watched in pleasure as they watched his blood shed...

May first!
A first attempt at ending terrorism. The order made by Obama, Osama Bin Laden is dead.
Americans light fireworks and say that they can now go to bed.
As if they spent every moment with him in their heads!
As if they went without rest.
As if they spent 9 years 7 months and 20 days looking their best!
They act as if they were all there at Ground Zero! And now they look at Obama as their personal hero!?
They say they are Christian set, and swear that we are all equal; yet wish death upon other people. They resent a sequel! I go to school and they have cheering and flags raised high pronouncing his death. They think we have already won...I'm sorry my friends but I think the battle has just begun!

May second!
I don't support them nor think he should have lived. Though he did kill men, woman, and even some kids; he deserved to die no doubt within my mind. My belief simply that he is the wicked wizard of the east and even without him violence will never cease! We cannot live in peace…not yet! I bet I will fight for now my fate is set.

May third!
I watch a bird cross the sky. I watch ever closely my o' my! They threaten to attack and rebel against the "U.S". They have another man...taking over command. I feel like our troops maybe stuck in the sand. I am scared for what may happen just because the government holds us locked hand in hand.
I want to know why people cry when a comic-book character dies.
And why they are prancing around when a man is shot in the eye and lies on the ground?
Is it the lives that are saved or the death that was craved?
A new life will be paved as we live in this unstable new place we call "The Future".
This is a place where we have no emotions and Americans are Hell bound.

May Forth!
No one cares anymore. Most think he is no more. The fact he was evil rotted the core. When he died he knew what was in store. Though living in mansion he was very poor. No one here cares.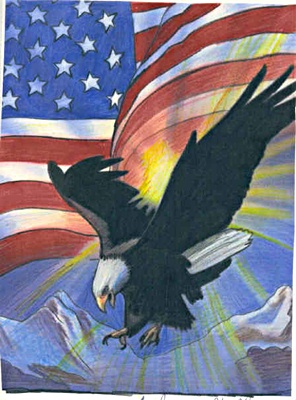 © Andrea G., Middle Village, NY