blurry
May 10, 2011
i drift inside these walls in a
world blurred enough to be
beautiful
i feel the blood inside my
bones fizzing, flowing
making my insides warm.
my body is limp and
I'm treading water
so kindly drowning me.
i take a step and my
body breaks down like the
universe lulls it to sleep.
on the ground the earth
shakes, rocking me
singing me to a different
place
i start to cry
as sadness crawls back into my
head
but I'm spinning
and then I'm laughing
and i close my eyes
to fly inside myself,
so much larger and deeper
these waters cradling me
taking me deeper and higher at once
sinking
in this place, i love...
life
because my voice is muted
sight is shaky
and I'm not strong enough
to resist
falling into the bottomless
hole filled with a substance
so comforting
enveloping me and pouring into
my eyes and my
nose and my ears and my
mouth
lost my thoughts
they swam away,
spill out of my
brain
all that's left is this
irresistible ink beacon
dark within the brightness
kissing every inch of my
skin
molecules exploding
submerged in beauty
and i love, and i love
and i smile because nothing
matters and everything
is
and for once, i am beautiful
and I'm nothing and I'm
melting.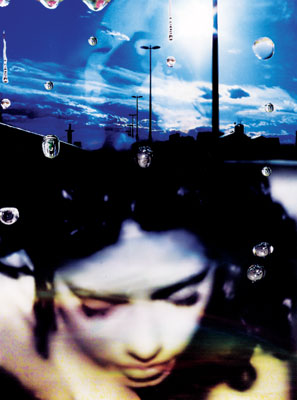 © Becky F., Sacramento, CA