The Fondest of Treasures
April 17, 2011
She was on a treasure hunt.
succumbing to temptation,
dreaming of the riches.
To fill her mothers prophecy.

Mother wanted a ruby,
all her life she dreamed
of a red jewel to wear
around her empty neck.

Yet death never comes timely,
it shakes your whole world.
And when she passed,
she carried nothing more than a pearl.


Mother left her the
empty chain that yearned
for her treasure to remain.


Dig, dig, diggin'
for that ruby she was,
but no treasure did she find.


"My ruby is beautiful,
I can picture it shining.
The purest and the finest.
You need not look far
life will lead you,
life will guide you.
And there, it shall be."


Left puzzled by
her mothers mystery
her soul became bitter,
nonetheless withered.


If she would have only
known her mother's grace.
She was far too young,
when she left without a trace.


All she could feel was the emptiness, growing
in her unforgiving chest.


It was not until the day
that she put that old chain on.


Chills ran down
her bony spine
as the chain fell
perfectly in line.


A stranger glanced over,
and couldn't help but notice.

"How lovely your necklace is my dear. Wherever did you find that marvelous jewel?"

She peered down,
to see a glowing red figure
hanging from the rusty chain.

And then it was all clear.
After searching all these years.
She had found her mothers treasure.





It was her.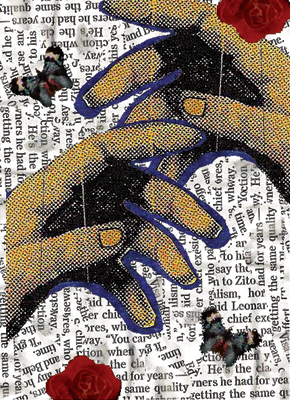 © Christine S., Arlington, VA