Hallucinations
April 10, 2011
Smooth meadows, fields, farmyards;
a solitary team moves against the skyline along the road that runs parallel to the horizon.
The satisfaction of months shines in his dull pig's eyes.
At first I am at a loss to understand, then it suddenly dawns on me.
I percieve behind them only the suffering of the creature, the awful melacholy of life and the pitilessness of men.
Breathed the cool, acid smell of stagnant water.
Now we freeze, it is autumn, the leaves rustle, the voices flutter out wearily; one-two-tree-four and cease at thirty two.
How various is a face; but an hour ago it was strange and it is now touched with a tenderness that comes, not from it, but from out of the night, the world and the blood, all these things seem to shine in it together.
Behind her smiles, th blue with white horses, at the side is a bright bay.
Close above me are her bewildering eyes, the soft brown hue of her skin and her red heart-shaped lips gently brush against me.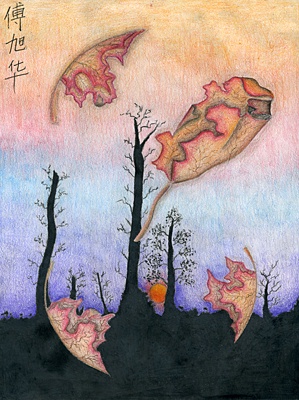 © Becky F., Sacramento, CA