Weathering the Storm
May 1, 2011
You see, running laps and learning plays is much different these days.
As I run around my neighborhood the sun fades.
I see the sky: pink, orange, blue, and gray;
I really want it to stay,
But it doesn't always go my way.
There comes a time in everyone's life
When things have to change, when you run into strife,
But it's simple to say
That having twelve "sisters" makes all the problems go away.
When we step onto the court
We all know we have one thing in common: the love for this sport.
Whether it's my vision of Sarah Schnieders and her future record store,
Or Abby and Morgan sunbathing at the Gulf Shores,
No matter how different we may be, we must all stick together to complete our common goal.
And it's important to note, that the goal isn't about winning or how many balls we stole,
But about being able to look each other in the eye
And know deep down that we didn't just get by;
That all the line drills we ran and all the practice plans we performed,
Were only helping us to weather any possible storm.
Later in our lives, Paula may still be screaming "C'mon ladies" in that significant Brazilian accent,
And Coach may still have the occasional look of extreme torment.
Caroline may still be cussing at the refs in French for making stupid calls,
Leaving coach with nothing else to do but run and hide in the stalls.
Megan will most likely be doing voiceovers for Baby Momma 3,
And Shantey will be nursing the elderly.
Christina, the mysterious, will be pursuing an amazing career in journalism,
And by the way, coach will still be practicing his strong paternalism.
Kelly will continue to be a tremendous aunt,
And she'll still hold true to never say the words "I can't."
Unless, of course, you ask her to build a fire.
I think you're better off to find someone else to hire.
Andrea will probably still be practicing random acts of kindness
And Marissa will still be asking, "what did I miss?"
Ashley will still have a stomach like that of a bottomless pit,
And will never gain any weight, not even a bit.
Through all we go, I truly hope each and every one of us achieves our personal goals,
That we all fulfilled our God-given roles,
That after we've weathered every possible storm,
Whether it be F1, F5, Thunder, Lightening, or whatever else may form,
We all survived,
Through all we strived.
Caroline, Megan, Morgan, and Kelly all hope to be married with kids,
And Sarah wants to be remembered by all for the very person she is.
Paula hopes to be a coach, a mother, a wife,
And Christina wants to surmount every moment of her life.
Ashley wants to go sky diving before she dies,
And Shantey wants to become a nicer person in everyone's eyes.
Andrea plans to be the next Erin Andrews,
And if that doesn't work out, her love for God will tighten the screws.
Marissa hopes to be a trainer for the Special Olympics of Missouri,
Which should prevent her from standing in front of a grand jury.
Abby hopes to become a high school PE teacher,
Which should give all of you comfort, for she did not say a preacher.
I could continue on,
But we'd be here 'til mere dawn.
But since I don't talk as much as you'd all like,
I'll stay a few more moments at this invisible mike.
For those of you who don't know, I'm as stubborn as they come,
And it sometimes sticks out like that of a sore thumb.
I want to contribute to a cure for Alzheimer's,
Which should not be interchanged with the phrase "old-timers."
My grandmother has the terrible disease,
And I wish someone could cure it in a breeze.
I want to be a coach for a high school basketball team,
To be a part of several young ladies' dreams.
I really want to be heard,
To change people's lives through my written word.
My confidence in myself will not appear
Until your confidence in me gets here.
I may be one of the most sensitive people on this team;
My sometimes-glossy-eyes are not a dream.
But I can promise you one thing,
I'll never step out of the ring,
Because I'm one of the toughest people you'll meet,
And I'll never let any physical pain be my defeat.
I won't walk into the trainer's room,
Unless my knee is completely blown from squatting with a broom.
I'll never give up on any one of you,
And I hope you can all promise this to me too.
Now it's time to end this,
But I truly hope I gave you all someone new to miss.
As we eventually go our separate ways,
If you remember anything, this is what should stay:
If I couldn't have you as sisters, I'd choose you as friends,
And please know that I'll sincerely be here for all of you until the end.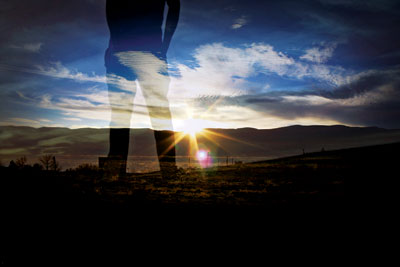 © Ezekiel R.