Mortal Night
April 7, 2011
The sun's delicate rays touch the earth.
Twilight settles in like a blanket across the land,
A mother tucking in her child.
Reds fade into blushing pinks and oranges then soft blues and finally deep violets as the horizon darkens,
A rainbow of colors then nothing - just blackness and the moon
Like a vast space of oblivion until the stars come out to dance.
The radiant sun's kinsmen light up the sky in a different kind of way -
A dull shining, silver glitter upon a blank background.
The soothing wind whispers words of encouragement to the little orbs
Until they grow bolder and brighter
Courting the elusive moon as she shyly slips behind crowds of clouds.
Anything is possible within that beautiful midnight hour
But still asleep, the child dreams away
Little knowing what she is missing,
Hardly realizing what it is to be,
Never opening her eyes to see.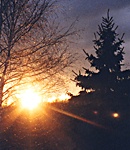 © Vhristy S., Germantown, NY