The Afterthought
March 13, 2011
Applications and forms
They ask me where I am from
But the name of a city is so inadequate
Because
I am from things I cannot explain
A town I do not understand
I am from books I didn't read but learned by heart
and from songs I only loved because I heard them so many times
I am from the moon in the sky on summer afternoons
and the sound of the trains in the depths of the night
I am from the trails left behind by the air force jets
that criss-cross the sky like a disappearing tattoo
I am from the winding and worn highways leading south
past the oldest and most tumbledown shacks
long abandoned to the wilds of the grassy desert.
I am from where the railroad tracks cross the road that never goes anywhere
and from the rickety and leaking buildings
that have been deserted for God knows how long.
And as I wander among them wondering what happened
To bring them to their present state of decay,
The stories I don't know flood and overwhelm me
And am I the only one who has ever wondered
what will happen to this town
when the director yells "Cut!" for the last time
and the tape stops rolling
and no one has any afterthought
of my deserted desert town.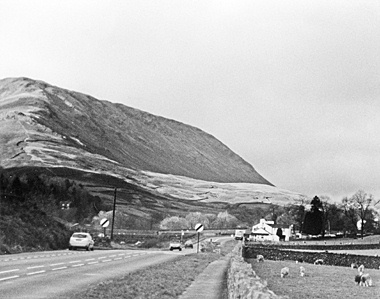 © Eleanor J., McLean, VA