Shadows and Doves
February 14, 2011
The charcoal-grey shadows filter in on his scarlet heart
With each tentative heart beat the shadows come, they come to say he's unworthy of the love his scarlet heart beats so furiously for
So drown them out, out shadows please go away, he picks up his guitar, its black, black as midnight, black as tar.
His slender fingers find purchase on the frets; slender fingers grip the guitars neck just as furiously as the shadows grip his heart
His throat finds the words he longs to sing. Left, left hand switches back and forth from chord to chord, melody to melody
Head thrown back, mouth agape the song for the love he has yet to find escapes his heart, it escapes like a fluttering bird, the bird pure white, pure as his love escapes,
From his chest with the boys scarlet heart. His heart thuds in the bird's beak of love with care the love caresses the heart,
The shadow less heart is safe here, safe outside because the shadows were only in his
Mind.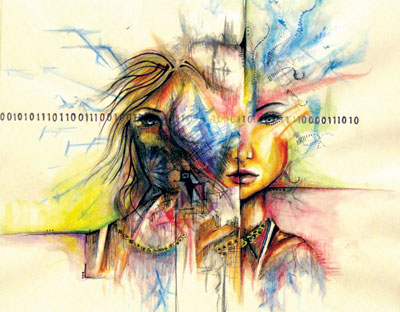 © Melissa W., Fayetteville, GA