A Beautiful World
January 27, 2011
I love
a canopy of trees
weaving their
shadows
across the ground,
enveloping all blue,
stitching their veins
into the clouds.

I love
The stars,
shining on the sky,
peeking through time,
catching on the moon,
and teaching me
how
to dance.

I love
the rain
battering the earth
into a cool, soft, melody
washing away guilt
and sadness
leaving us fresh
and hopeful.

I love
the heart-shaped leaves
that hang from a tree
dropping
slowly
until only one is left
clinging to the deep brown
branches
clinging to life.

I love
thunder
that rolls through the sky
filling everything,
everywhere,
until nothing is left
but the colossal beat
of a mighty drum.

I love
gentle blankets
and careful music
and warm embraces
and soft goodbyes
creating a lullaby
of happiness.

I love
sunflowers
and smartweed
and roses so bright
and beautiful
it's a mystery how
they could possibly exist
in this sometimes dark world.

I love
laughter
and smiles
that fill up rooms
that leave you full
floating
far above
endless possibilities.

I love
salty waves
that go on forever
not giving up
even in the face
of utter disaster
too reckless
or wise
to forget their dreams
of another shore.

I love
warm feet
that dance to
invisible notes
that create lovely
out of lonely
and peace
out of pain.

I love
this earth
this sky
this ground
this world.
I love
this
life.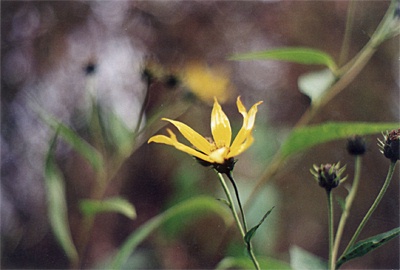 © Scott R., Casco, MI