Icy Heart
January 5, 2011
It's so cold,
So white.
Time for the gloves and the scarves.
Cheers to these glorious nights!

Filled with crystallized water,
And the warmth from your arms.
With the cold frigid air.
Oh winter's beautiful charm.

As I lay watching
the icicles drip,
I long for a single touch,
A sweet kiss.

As I walk through the pure
And beautiful snow,
I catch the perfect flake
As chilling as an eerie hello.

We finally arrive at the pond.
And ice skate the night away.
I can't help but think how
This will all fade and decay.

The snow will eventually melt,
And the ice will begin to crack.
It was lovely while it lasted,
But now we have to get back.

Before we drown ourselves
In water that's too deep.
The ice is getting thin,
And I just need to sleep.

The days are so dark,
And the nights are bitter.
Why did we think it could last
Though this short winter?

I'll never forget
The memories you gave me.
But we're in over our heads.
Stupid and love-crazy.

I just can't handle
Being in love.
I lock up and freeze.
It's easier to push and shove.

I'm sorry that I can't do this.
I'm cold-hearted and standoffish.
You don't need someone like me.
I'm frigid and selfish.

I hope you can forgive me.
I didn't mean to hurt you.
This winter wonderland wouldn't last
But spring will be here soon.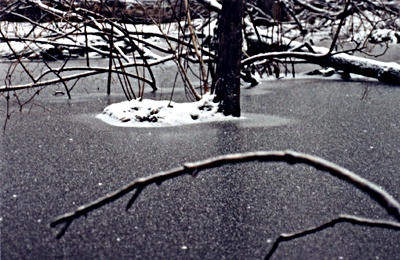 © Anton J., Philadelphia, PA