Broken Mirrors
December 26, 2010
Broken mirrors paint the floor,
throwing up thousands of reflections of your face
and I lost track of which is really you.
Each reflection tells me they're the one,
why can't I see the truth?

I stood surrounded by cement walls
decorated with spotless mirrors.
It was when you arrived that my walls fell down
and the mirrors shattered.
My defenses were broken
and you were the culprit with the hammer and chisel,
unarming me.
Forcing me to look at you from behind fallen walls.

Tell me the truth,
which is you?
You've become a thousand faces,
and none look familiar to me.
Stop pointing fingers at me,
stop laying the blame on someone else.
Stop trying to deceive my mind
into believing that it was ever my fault
that the glass is broken.
You lied,
you lied.
I'm walking on broken glass because of you.

Broken mirrors paint the floor,
and i see my reflection in all but one.
All but the one that holds on to the image of your face.
Tell me.
Tell me which is you.

Why can't you see,
you're wearing a thousand faces?
You wouldn't tell me which is you
and now you're sand beneath the heel of my shoe.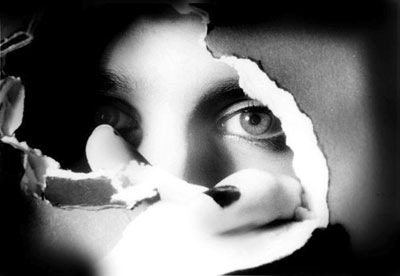 © Tabatha B., Peoria, IL