water colour
December 24, 2010
a painting sits before me
on a pile of discards
papers, books, headphones, wrappers,
and this.

it is not my work
four scraggly brown trees
soft blue water
and smoke.

i took it,
from another pail of discards
sketches, faces, charcoals, ribbons,
and this
lying on top
with sadness clinging to its crumbling edges.

the rule in the game i play is:
if it: makes you wonder toss it.
is questionable, dispose of it.
is shaped like so many others that you keep,
all in a discordant row,
do not bury it with sorrow.
let it go.

but this water colour
is so heavy with sadness that i can not move it.

it is not the sadness of laughing too hard; or crying too hard.

it is not the melancholy of missing someone; or the abject unfortunacnce of seeing someone again too soon.

it is the hollow sorrow of an empty paper bag, or a neglected doll's hair.
with no hands filling it with fresh fruit
and no hands combing our the dusty tangles.

this painting is an empty sorrow.
every time i stare at its wavering stream
the flickering branches seem to sway
and as i look away
i realise
there are no birds.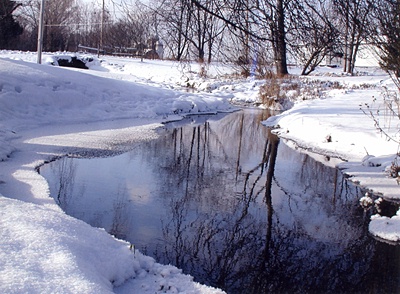 © Alex B., Rome, NY