Easier to Run
December 21, 2010
It's easier to run,
Easier to escape
Then to stay and face
All this pain.
I caused it all
And I'm so sorry.
When I leave, it'll disappear;
Don't worry.
Can you ever forgive me
For doing this to you?
You probably can't or won't;
I deserve that too.
Maybe someday down the road,
This pain will fade
But right now it's too fresh.
I gotta get away.
It's easier to escape,
Easier to run til I'm numb
And able to forget
What I've just done.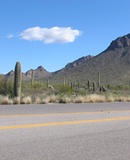 © Aleksandra K., Tucson, AZ