Impossible Silence
November 15, 2010
Loud noises stalk your footsteps
Screaming echoes in the background
Cars screech past
People clatter all around you
The radio whispers its songs
A TV voices a loud opinion
Babies won't stop crying
Somewhere, a phone continues to ring
Cell phones are beeping, buzzing
Neighbors conversations pierce your walls
Toys produce annoying musical sounds
Stuffed in a corner, the dryer growls
Clocks set off their alarms
Microwave dings
Doorbells intrude into your eardrums
IM bubbles seem never-ending
Fingers twirl noisy key rings
Someone is stabbing at a keyboard
Bubblegum bubbles continually pop
A book is slammed shut
Somewhere a faucet drips
Sounds come from deep within the radiator
Dogs bark, growl, snap, yelp
Vacuum runs in a low hum
Snores steal from a cracked door
Shrill whistles creep under the windows
Door after door bangs shut
Drawers are jerked open
Pens scritch and scratch away
Plates clink together
Silverware rattles
Guitar chords fill the leftover quiet
Hurry
Run
Look back
No one's coming
Dash down the stairs
Ease the door shut
Latch it tightly
Sit down
Close your eyes

Ahhh!
Quiet at last.....or so you think.

A loud, yet low sound grows and swells
It fills the room
Your very skin vibrates with it
Your ears pulse with the deep throbbing that surrounds you

No quiet?

No.

For your heart is still beating.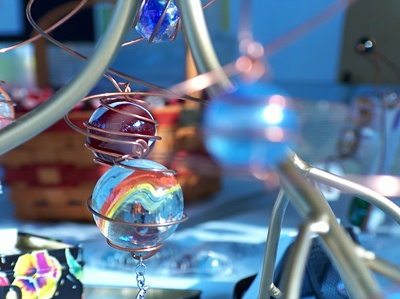 © Sean C., Princeton, IL