One Sunday Afternoon
October 28, 2010
In desperation of cleaner air, of a deep breath
I storm out of my 6 story
Bug infested
Apartment building

I don't look up,
Unless of course I'm in the mood to see bloodshed
"Baby girl where you goin'? You lookin' fine".
I keep walking.

Curiosity satisfies my complaints as I peak up
I see a little shaggy haired boy, shoulders shrugged
Sitting all alone on the street side
In his shoes many times before, I sit next to him

Surrounding his cries, pregnant teenage girls,
A negotiation of money and what they call "a break from this hell"
Famine
Encouraging isn't it?

Looking into the boys eyes, I notice a sign of familiarity
He lives below me on the 3rd floor of our apartment
Unable to grasp any words, I just sat there looking at him


"I have to go to my mom" he stumbled out
Getting up, he darted in the opposite direction of our apartment
Relentless, I follow
Without being recognized, I proceed,
He finally stopped three blocks down
He sat near the littered tree on the filthy ground
In the middle of the cemetery.

I waited there for about three hours that afternoon
This little boy stretched his arms around her grave marker
Tears streaming down his face, he talked to her
His voice got louder until he reaches a temperamental tone
He screams at her, and throws a purple lighter at her grave

I don't understand of course, but I watch in sorrow
I continue to watch him cry and yell and scream
Finally, he kisses the grave marker one last time and brings up enough courage to leave

He came out of the cemetery with water-stained cheeks
He just darted in my direction
And clasped his little arms around my body
And cried
I cried back at him
For once I didn't have to act strong

We hugged for a good ten minutes until he finally let go his grasp
And looked me in the eyes
He managed to say only one thing to me,
"Drugs"
I'll never forget that Sunday afternoon.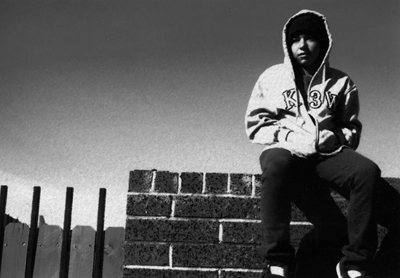 © Stan G., Phoenix, AZ