Approaching Thunderstorm
June 20, 2010
It begins as a feeble line just above the horizon.
A cloud simply making its way across the sky,
All the while growing closer, and darker.
Brilliant colors of lightning flicker in the clouds.
Low rumbles of thunder roll across the land
Strong breezes carry with it leaves, and a musty scent.
So vast and ghastly at the sight, innocence recedes, and fury threatens.

A king approaching his fearless servant,
Who stands tall; watching, waiting for the first strike.
Electricity fills the air, intensity increasing a tenfold.
Soft pearly pink joins delicate gray walls of rain, then they fade
Veiled by the dark clouds now above
Falling rain, chilling wind, thrilling thunderr, brilliant lightning
And so, peaceful chaos reigns.

Soon comes the end, with it comes change.
Lagging darkness joins the rays of gold
The weak sky blue line on the horizon expands
Growing stronger with each heartbeat, chasing the monster away.
One last cool breeze flows on through
Carrying the last trace of rain in the atmosphere
Whispering, caressing the skin softly to the touch
Restoring peace as if in apology for its potent friend.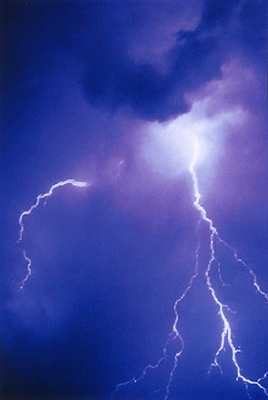 © Steve A., Goodyear, AZ