Flyleaf
June 16, 2010
I'm falling
Trying to grasp the edge of the hole.
Trying to get a firm hold of the present,
trying not to get sucked
Back into the past.
Desparate hands reach for me.
but I can't help it.
I'm in a black hole
I have to give in,
or I'm dead.

I fall.
I'm holding a leaf.
It's what I kept,
To remind me to hold on.
To the present.
I'm wearing a tethered white dress.
Smudged with fire, soot.
Maybe one for a funeral.
I only have so much time.

I walk around.
The fragile glass of this past,
makes me nervous.
I need more time here.
Everything seems gray here.
Colorless of the knowledge,
of the present.
I'm the only thing colored.

I trip,
and notice the ground.
I now feel trapped,
in a smudged drawing of innocent autumn.
Everything seemed so innocent then.
this place should be glittering, sparkling.
But is just feels dead.

Then I see us.
We're arguing.
I feel pity that they have my color, and they don't.
The battle in my mind comes to an end.
Because I know what I have to do.

My flats squish the wet leaves under me, and the scence in fron of me freezes.
I'm pointing somewhere,
and you're in the middle of yelling.
I walk up to me,
and see watery eyes.
She seems so sad,
so innocent.
Her spirit is so dead.
I take the brown leaf,
and look at it.
Will everything ever be the same again?

I take her hand,
as a gray tear falls down my cheek,
and a colored one down hers.
I put the leaf in her hand, and curl her fingers around it.
I turn to you,
and put a hand on your cheek.
The gray tear takes away my color,
and the hand on your cheek puts your back in. I walk away.

I'm pulled back into the present.
By hands that love me,
but not yours.
you are many yards away from us. Still a dark shade of gray.
Will anything ever be that easy?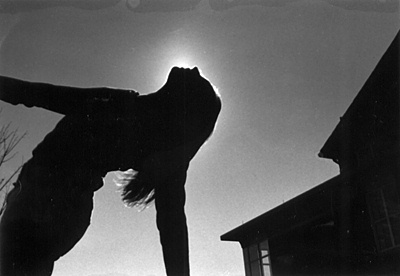 © Alexandra B., Marblehead, MA