A Teenager Today
June 18, 2010
The life.
The life.
They say this is our best years;
Our teenage years!
We don't got to do nothing.
Nothing to worry about!
Just friends and fun and hanging out.
Just try your best!
Don't grow up too fast!
You don't got to me model sized!
They say those things,
But there's another message their yelling too,
Grow up!
Get a job!
Better not be getting pregnant.
Get straight A's!
You better not be overweight
Dare I say; obese.
You need to be responsible!
No time for friend; work!
Getting going there a lot do!
Your best ain't enough.

The Life.
The Life.
I wake and make breakfast
For my mother and brother;
My dad's long gone.
Then run to the school bus
For 8 long hours of terror called school.
Homework ain't the half of it.
Going crazy, my mind can't stand it.
Kid caught with crack.
Teacher caught with crack.
Gangsters on the corner getting ready for war,
Liars and gossipers on the other.
I don't know which I'd rather face.
Hiding in the Ag room cause no one likes whites today.
Losing best friends cause whites don't like others today.
It's not so hard I guess, but adults couldn't do it.
They say it's all changed.
They must have grew up in the Barbie world then.
Butterflies and bubblegum pop songs.
Like then was so much better and it was, I guess.
It ain't our fault, kids' fault it's changed.
We weren't even thought up then.
It might just be coming from the Barbie world generation.
Thought up that?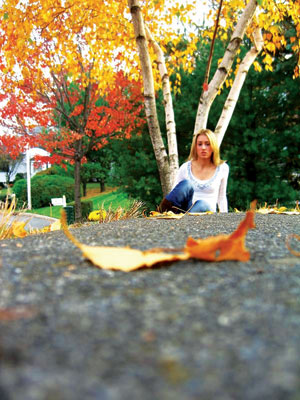 © Stephanie F., Garnerville, NY