Heartsong
June 17, 2010
When I dance, can you see my face? How my eyes close and my hair tosses and my mouth stretches into a smile?

'Cause all you said was, 'You need dancing lessons.'

How about when I run? Do you notice the beauty in so many parts all moving together, the exhilaration is knowing that I got myself there without anyone or anything besides the she shoes on my feet?

'Cause all you said was, 'Running is boring.'

Do you see what happens to me when I'm outside, in the rain, jumping higher and higher until it seems that all that's left of the world is rain and thunder and noise and energy?

'Cause all you said was, 'I'm not getting wet.'

Will you come with me next time I have this great crazy idea that fills me up until I go even more insane because we're only young once and I can feel every minute slipping by?

'Cause all you said was, 'I'm too busy.'

Can you learn to recognize when I've been silenced by beauty or power and all I can do is sit and watch and listen and try to lose myself in it?

'Cause all you said was, 'Why aren't you talking to me?'

'Cause,
I know I need dancing lessons
Running isn't boring when every step screams, Victory!
Getting wet can be worth it sometimes
You're always busy
And
I was talking to you, but I was talking with my heart
And you haven't learned to listen with yours yet.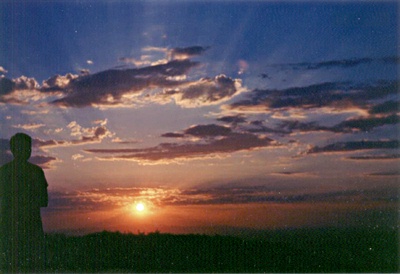 © Jovee B., Dededo, Guam