I Like You...
May 19, 2010
I like you,
And that's what I know.
Can't u see it in my eyes?
I don't understand, how else do I show.

My eyes don't move,
when you come near me.
My heart-beats go on a groove,
when I see you checking out me.

I like the way you smile,
the curve of your lips.
It makes me feel so refreshed,
that's the thing now-a-days I badly miss.

I don't wanna say "I love u" or something,
b'coz i know 'love' is too strong an emotion.
but believe me I have never felt this way before,
I'm sure its something more than just attraction.

I wish you could ever see yourself,
the way I see you.
b'coz that's the only way left for u to understand,
what I feel for you.

I like you,
And that's all I can say.
I hope someday,somewhere we'll come across each other,
And I'd express what I felt for you, that blissful day.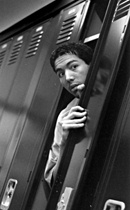 © Paulina A., Marblehead, MA