Meaningless?
May 15, 2010
I must know: What makes a human valuable?
What defines us from the simple elements with which we're made?
Why, why is it I feel that pang of sadness
At the 5 o'clock news
When they announce the murder of a 3 year old child?

[i] Cecilia Jordon was discovered in a garbage bag after her disappearance last week… [/i]

Oxygen…
Carbon…
Hydrogen…

[i] Twelve children were found burned to death after Hughes Elementary caught fire… [/i]

Nitrogen…
Calcium…
Phosphorous…

[i] A sudden earthquake claimed 32 lives and uprooted hundreds more… [/i]

Potassium…
Sulfur…
Sodium…

I can't understand.
Is this compassion just human nature?
Meaningless, on a universal scale?

Is my refusal
To eat meat
Since I cannot bear the image
Of a living creature
Killed
And butchered down to an
Unrecognizable form
Meaningless?

Chlorine…
Magnesium…
Iron…

And this consciousness
An evolved trait
Meant to protect the body
And nothing more than that?

Fluorine…
Zinc…
Silicon…

Lives cling to life
Simply because
The organisms
With the will to live
Were the only ones to survive?

Meaningless?

My opposition to the death penalty—

Rubidium…
Strontium…
Bromine…

-- a pointless position to take?

Lead…
Copper…
Aluminum…

These elements
Attainable
With a child's allowance
What's the difference?

[i] All 126 people were killed after flight 27 leaving Newark went down over the Atlantic Ocean [/i]

Cadmium…
Barium…
Iodine…

How can you claim a soul exists?
Matter cannot be
Created
Nor destroyed.

At death
Nothing is gained
Nothing lost
Physically speaking.
A soul?
Don't make me laugh.

Tin…
Titanium…
Nickel…

So why?
I can't dispute
I'd never take a life.
I would never
Hurt another living creature
I love them all far too much.
But why?

I still don't have an answer.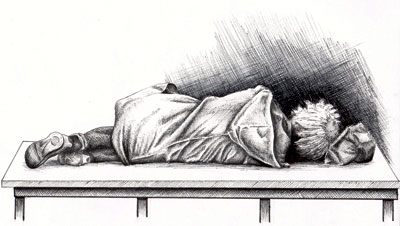 © Devin N., Sherrills Ford, NC