Cycle
May 12, 2010
When you're alone, singe
You can feel that gaping hole in your heart, letting in all that air making it hard to breathe,
He lieves a presense in your soul,
That only gets worse when you think about it,
When your so close to death,
You get so frustrated, so unhappy,
You start thinking again, about your loss,
About everything that you have been through
And then you see his reflection in your mirror, that only makes it worse,
The pain of not being with him only feeds to the fire,
Your heart is ripping, tearing apart,
And there's nothing you can do about it, the minutes tick by,
And you're still in agonizing pain.
Then again, you see him floating in front of you, and you reach out to touch his ghostly image, but he vanishes, leaving a trail of smoke behind.
Again that gaping hole in your heart gets bigger, leaving you with no air, and you are so close to death you can almost see it, but the cycle starts all aver again. Until you're left walking soul-less for the rest of your life. It's all a cycle.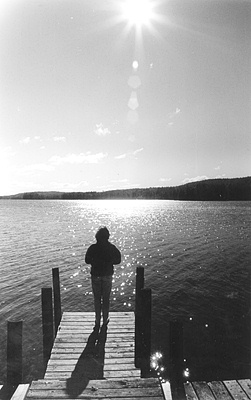 © Beth S., Marblehead, MA