Daring
May 10, 2010
He is mysterious.
That deep serious look
He holds in his dark eyes.
That smirk his lips create.
Temptation rises. Maybe fate?
Day after day,
Those lips, that smirk
Those eyes, that look,
They haunt me.
Simply mesmerizing.
Never willing to look
For longer than a second.
Repressing a smile,
I look away, my head turned
Slightly down.
A blush burns in my cheeks,
Across the bridge of my nose
And he walks by,,
Making my heart slow.
Allowing that gleaming moment
To last, to be branded in time.
And his mysterious face,
Leaves me breathless.
The look fixed on that plain,
Forces me to wonder.
Simply by looking at his stance
Leaves me dancing this constant dance.
Of could it? Would it? Maybe I shouldn't.
He is mysterious.
My heart slows
And my face burns red.
All from looking shortly at
Those eyes, that stare
Those lips, that smirk.
Tempting me to take a
Longer look.
Maybe even smile and wave.
Out of my head it will not go.
Those dark eyes
Daring me.
Those sweet lips,
Tempting me.
Trying to get me to
Attempt to solve,
The puzzling mystery,
That is he.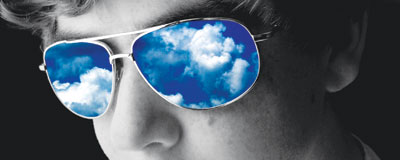 © Joseph B., Mesquite, TX