Ghost Romance
April 10, 2010
Close your eyes.
Grab my hand.
Come with me.
And we'll see all land.

I'll show you,
the midnight sky.
We'll be soaring
we will fly.

I know you're scared
it's in your eyes.
But trust me, love,
there'll be no lies.

I'll not let you fall,
I'll not let you down.
So come up here
above the town.

"No", you say?
You won't leave your home?
You have people who love you
And a place of your own?

That isn't right.
How can it be so?
I've been flying alone
for as long as I know.

You're backing away
as if you won't go.
But flying around
is the best thing I know


You are wrong to think
that people are good.
You know you're unhappy
you're misunderstood!

You protest again
leaving me here
I've failed again.
52nd this year.

"I'm sorry," you say
your eyes lock me in.
Your hands caress me.
cradling my chin.

"You're misunderstood,
and no one believes
that you'll do them a favor,
by making them leave."

"I love my life here,
and I don't want to go.
I admire your spirit.
It really does show."

"But come back again,
when the moon is real bright.
And I will come with you
just for one night."

I stare at her wide eyed
not believing a word.
For girls to make promises
to ghosts is absurd.

"Trust me," she whispers.
She walks right away
leaving me gawking.
Almost 'til day.

I remembered that evening
Where she promised a flight
For months upon months,
I waited for night.

But it was always the same.
The moon always to dim.
It probably wasn't her fault,
Maybe there was another "him".

Was the moon brightest one night,
And I missed the date?
Was she gone forever?
Was I far, far too late?


I made up my mind,
I'm leaving tonight.
I'll force her this time.
And I'll make it right.

She'll come with me,
And I won't be alone.
She'll come to thank me,
For all that I've shone.

I float at her window,
Waiting for her.
Her dogs starts to growl,
Her cat starts to purr.

"Hello?" I speak.
My voice barely whisper.
I've waited too long now,
And I want to just kiss her.

"You came back?" she appears,
in her ruffled nightgown.
She looks at me scornfully,
Eying me down.

"I certainly did,"
I reply with a grin.
Maybe she's happy,
That I have barged in.

"The moon isn't bright."
Her words pierce my heart.
As if someone has accurately
aimed with a dart.

"I promised you, though.
You really do care.
You're intentions are true,
As you sail through the air."

"And I want to help.
But I can't leave my home.
I've been under a curse,
For as long as I've known."


"I'm only to leave
when that moon is most full.
It has to be bright,
And never to dull."

"Can't you stay here?"
She asks hopefully.
But I can't give her the answer,
It's too painful for me.

We're both trapped under a curse,
That leaves us roaming around.
Looking for someone
who will never be found.

She cannot leave,
And I cannot stay.
And the heartbreaks we go through,
Won't ever go away.

She's been the one
that I've waited on,
The perfect half;
The lyrics to a song.

She looks back at me
with tears in her eyes.
"You should go soon,"
she solemnly cries.

"I won't forget you.
You'll be in my heart.
But that just makes it harder
To try and restart."

I float away,
Leaving at that.
I hear her sobs,
And the purr of that cat.

"I love you!" she screams.
It's more than heartfelt.
Those three words,
Made my tiny heart melt.


"I love you too!"
I call as I fly.
It's way to hard to look back,
Although ghosts cannot cry.

I roamed the nights,
Many more yet to come
But never found anyone,
Just like that one.

So for you, future ghosts,
Don't make that mistake.
'Cause the worst thing of all,
is having your heart break.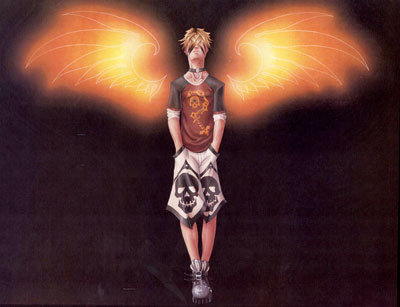 © Raul R., Monte Vista, CO