The rest of the world was sleeping
March 31, 2010
The rest of the world was sleeping
When I was a little girl,
I use to sit out on the dunes and watch
The moon rise up into the sky,
My cares would disappear
Like the shooting stars flying by.

As the rest of the world slept
I use to look up to the heavens,
Shining high above the ground,
And wonder if there was anyone looking down on me,
If by a guardian angel I had yet been found.

I remember how I use to sit,
My toes buried in the sand,
To watch the ocean rise and fall,
Ebbing all imperfections away,
Thinking about nothing at all.

Soon my eyes would become heavy,
And I would rest my head in the sand.
My doubts evaporated away,
Along with the final luster of the moon,
As the sun came up to start a new day.

While the rest of the world was fast asleep
And I too was beginning to dream,
I would listen to the waves crashing on the beach.
They were always so close to my toes,
Yet just out of my slumbering bodies reach.

For many years that is where I laid my head,
Letting the sounds of the waves rock me to sleep.
The seashore was mine for safekeeping
In those tranquil hours,
For the rest of the world was sleeping.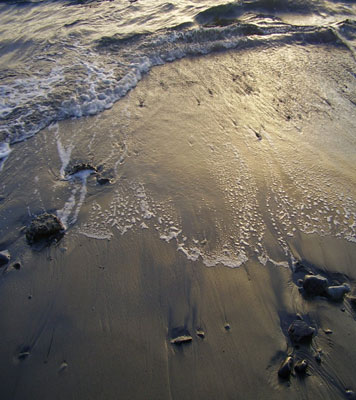 © Tori W., Victoria, BC, Canada