Tattoos in the Sand
March 6, 2010
Footprints: Tattoos in the sand,
Leading far away.
Far, far away towards somewhere- anywhere.
Away from you.
The faint traces of goodbye loosely linger in the air as you stand, motionless.
The sand beneath your toes is the only reminder.
He looks at you: a stolen glance, a hidden smile, a beautiful beginning.
Every day, a new adventure: tattooed in the sand,

The waves rock and roll behind you. The tide summons them in. Crash onto the beach in one everlasting wave, erasing the memories beneath you.
The footprints remain.
The sun is your only vice- rising and setting for the world around you, always in constant motion.
You stand still.
Capture the moment, and those in between, that took your breath away,

Standing on the dock, looking out to endless sea.
His voice rises above the waves.
His eyes sparkle in the sun. He looks at you, and only you.
The world disappears.
To jump is to abandon self. To jump is to believe.
Not to jump is to do what makes sense.
Jump.
Water, circling around you. Arms flailing. Searching for something- anything- to hold on to.
Him.
Arms surround you. Carry you.
He brings you to the surface. Wiping the cool, brown hair from your face, kisses your forehead.
I love you.
Three simple words, barely whispered, hardly heard.
Believe.
I love you too.
Tattooed in the sand.

The mosquitoes nip the cool night air.
He stands, waiting.
You run, step by step, through the sand, into his open arms.
Protected by the cover of midnight darkness, you fold into his warm embrace.
Two bodies, instantly become one.
Like puzzle pieces, who finally found their missing piece. The holes filled, the puzzle complete.
The sun rises as you tiptoe back to the solace of your waiting bedroom.
Looking back, a stolen glance.
A hidden smile.
Tattooed in the sand.

Summer wasn't perfect.
Life never is, but it was right.
It didn't make sense.
Love never does.

You stand on the beach, tracing the footprints.
Leading far, far away.
Away from you.
Faced with two choices.
Watch the tides carry away the remnants, wash away the tattoos.
Surrender.
Or run.
Escape goodbye.
The tides rise; water covers your feet.
Up, up, up.
The footprints disappear.
His.
Tattoos are gone, washed away,
Glancing up to the West, where the sun is setting on the world in motion, you move.
One foot in front of the other.
Footprints of your own.
Leading far, far away.
Away from sand, away from summer.
Him.
You hear your smooth, strong voice reaching out into forever.
Mile after mile, day after day.
Into his arms.
Three simple words, softly whispered, barely heard.
I love you.
This time permanent.
I love you too.
Tattooed on your heart.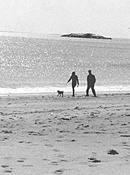 © Megan S., Marblehead, MA