Shivering
March 22, 2010
Dark fades to light,
Light fades to grey,
Grey fades to heart,
Heart fades away.

Birds pass the floodlights,
Tear up the night sky,
Dive through my gut and fly off with the insides.

Solemnly grumbling the trees start to lurch,
And as time elapses I push past the birch,
To a sad little place with a grin on it's face,
Where I sit back and ponder where I ought to search.

For I have not slept in many a night,
And my knees without life have been trembling,
Where once my heart nestled and with my mind wrestled,
There now was an absolute nothing.

Rip, slash, tear, destroy,
Pull down the tapestries my soul employed,
For I no longer need to have wishes and dreams,
And my joints have grown weary and tear at the seams.

In a day or two I'll pick up my journey,
None the wiser and none the less lost,
And once again the endless begins,
As the fresh morning dew turns to frost.

Shivering, cold in the deep mountain air,
I tumble below to a place of dispair,
Which holds my mouth shut and my eyes open wide,
And I finally breathe in what I have inside.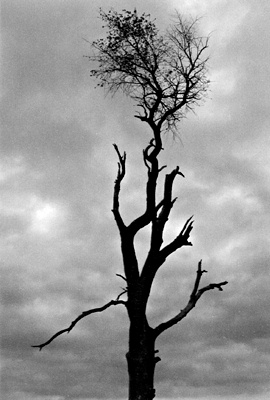 © Cassie H., Carmi, IL